Electrolysis
Unwanted facial hair can be stigmatizing and embarrassing for some. Electrolysis is the most reliable option offered today to permanently remove facial hair and hair from the genital area. Laser can be a good or even better alternative in some cases, but is usually not sufficient to permanently remove all facial hair.
Intensive treatment for facial and genital areas
At o2 Clinic we have developed an intensive program for removing hair from facial and genital areas. This can greatly speed up the process and solve the problem for people who live far away from a suitable electrologist. You only need to travel to Belgium a few times (4 to 10 times, depending on your reaction to the treatment and the willingness to come back instead of finishing the treatment closer). The reason we can offer this intensive treatment is that we use local anaesthesia to keep the pain under control.
What is electrolysis?
It is a proven method that was invented over 100 years ago to remove annoying ingrown eyelash hairs.
It is a method to remove individual hairs from the face or body.
It destroys the growth center of the hair with chemical energy or heat.
During the treatment, a thin probe is inserted into the hair follicle. This follicle is a natural opening of the skin. The skin is not perforated, so this insertion is painless.
Pros

The only method for permanent hair removal approved by the FDA.
Works on all hair colors, skin types and body parts.
More than 125 years of clinically proven safety and effectiveness. The results over the years have proven that this is the best method.

Cons

Time consuming process because each hair has to be treated individually.
Painful process, that is why you need local anesthesia for longer sessions.
Expensive, because many hours are needed.
You need to stop shaving at least 5 days in advance (for the facial area) and 10 days in advance (for the genital area) before the treatment.
If it is done wrong, it can lead to partial to complete regrowth, permanent skin damage and/or infection.

The percentages of regrowth are not accurately determined and cannot yet be predicted due to a large number of variables.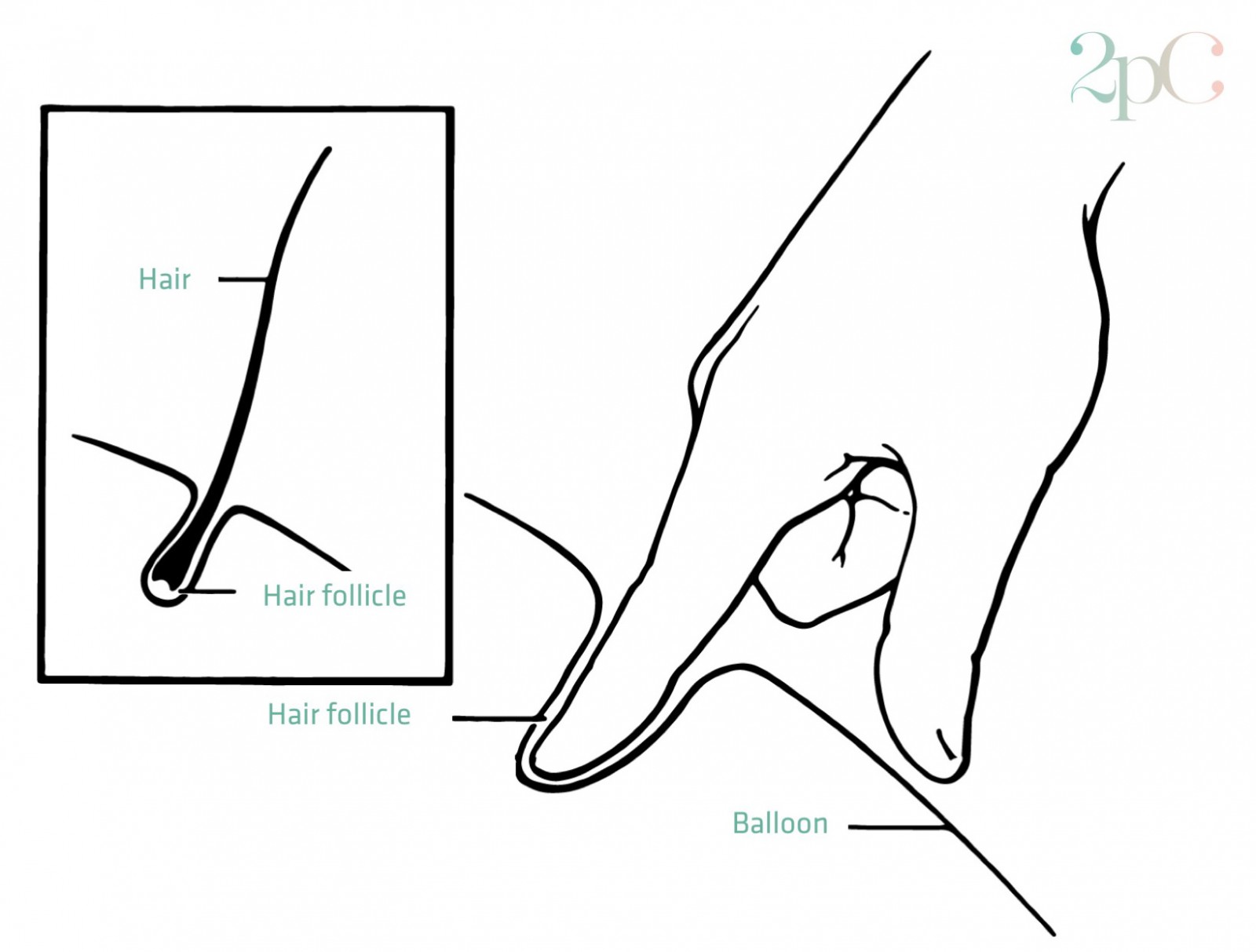 During electrolysis, the hair removal probe is introduced into the natural skin opening. The skin is not perforated, so insertion is painless.


Through the probe, a small electrical current is sent, which destroys the hair follicle. This part is painful for many people.
Finally, the hair and hair follicle are removed using a tweezer. This part is painless.
For electrolysis to be effective, only one thing has to be done: killing the stem cells responsible for hair growth. These are located in an area called 'the Bulge', in the upper part of the follicle. A complete hair follicle can be regenerated even after the bulb at the bottom has been surgically removed.

Two types of electrolysis hair removal
There are 2 basic types of electrolysis that are still practiced today, which we both use at o2 Clinic. We always start with thermolysis but switch to the blend technique if needed. Below you'll find more information on the difference between thermolysis and blend electrolysis hair removal, and a video of the effect of both inside a follicle.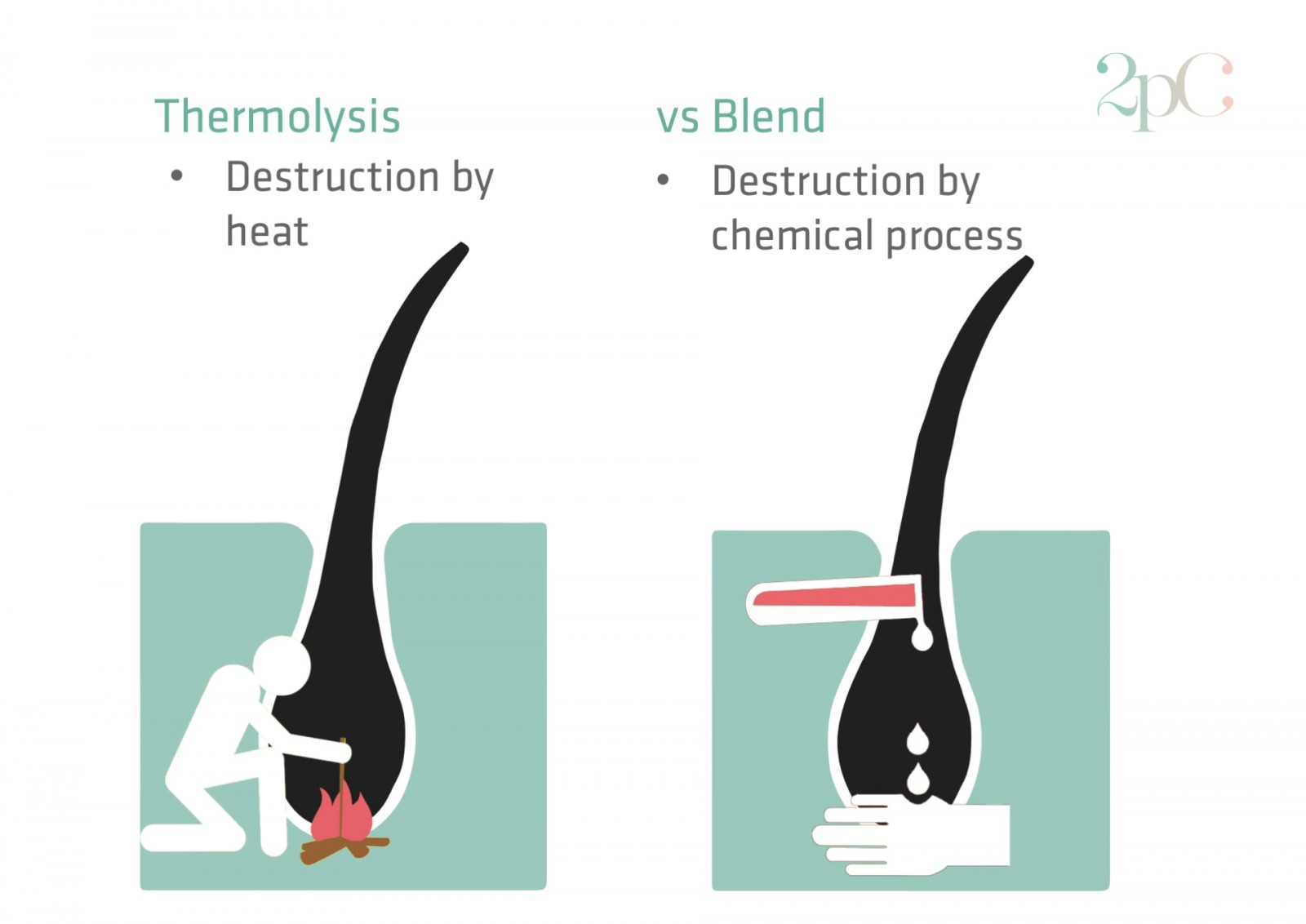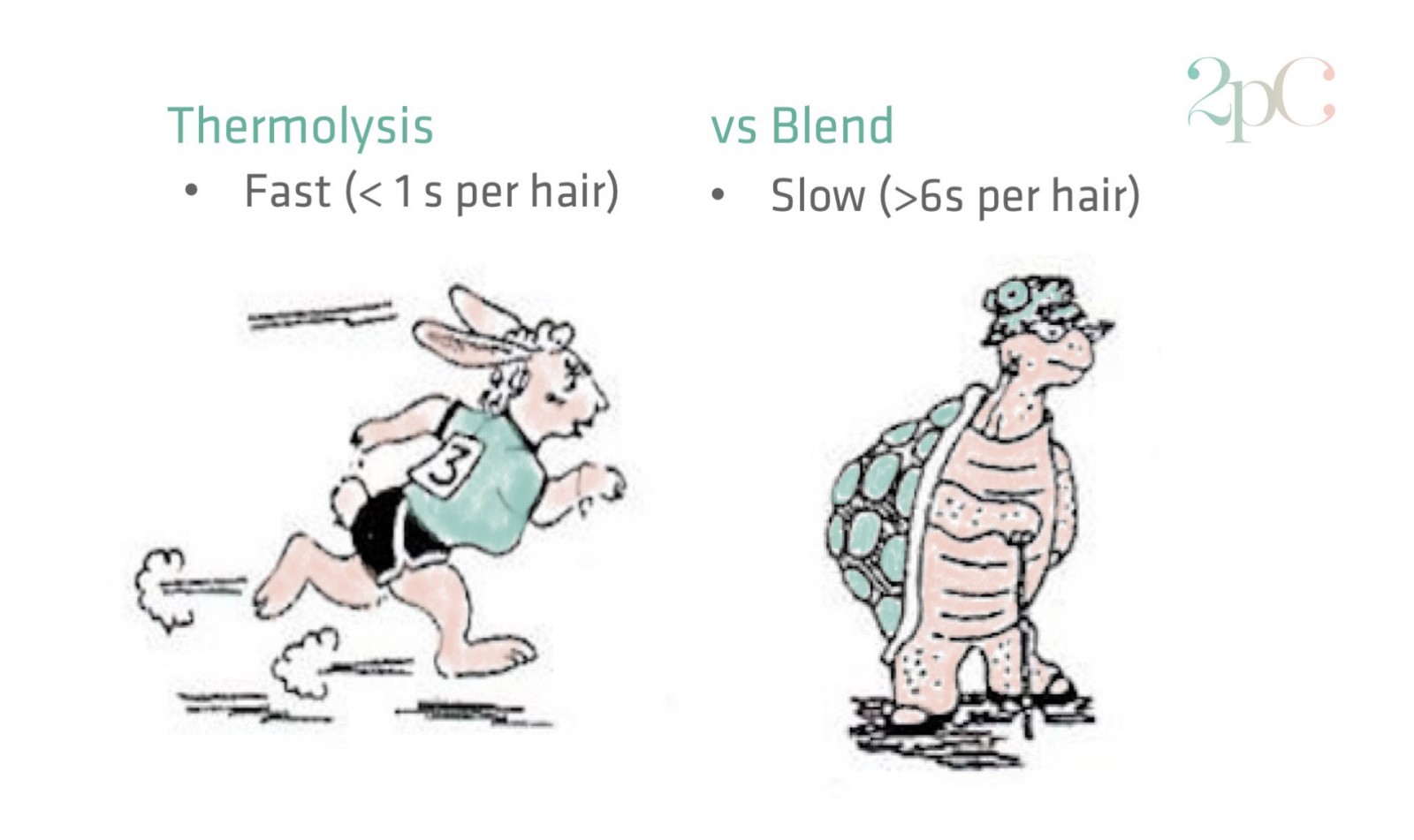 The gender of the hair
Roughly 5 million hair follicles cover the human body at birth.
No additional follicles are formed after birth, although the size of some follicles and hairs will change over time, primarily under the influence of androgens.
The precise spacing and distribution of the follicles are established by genes that are expressed very early in the forming of the follicles before birth. Hence, the distribution of the hair comes about at birth.
The formation of a beard is genetically programmed to happen and this capacity is already present at birth. Hence, the hair of men and women is genetically different.
During puberty, the male vellus hair (short, thin, slightly coloured) will transform into terminal hairs under the influence of androgens.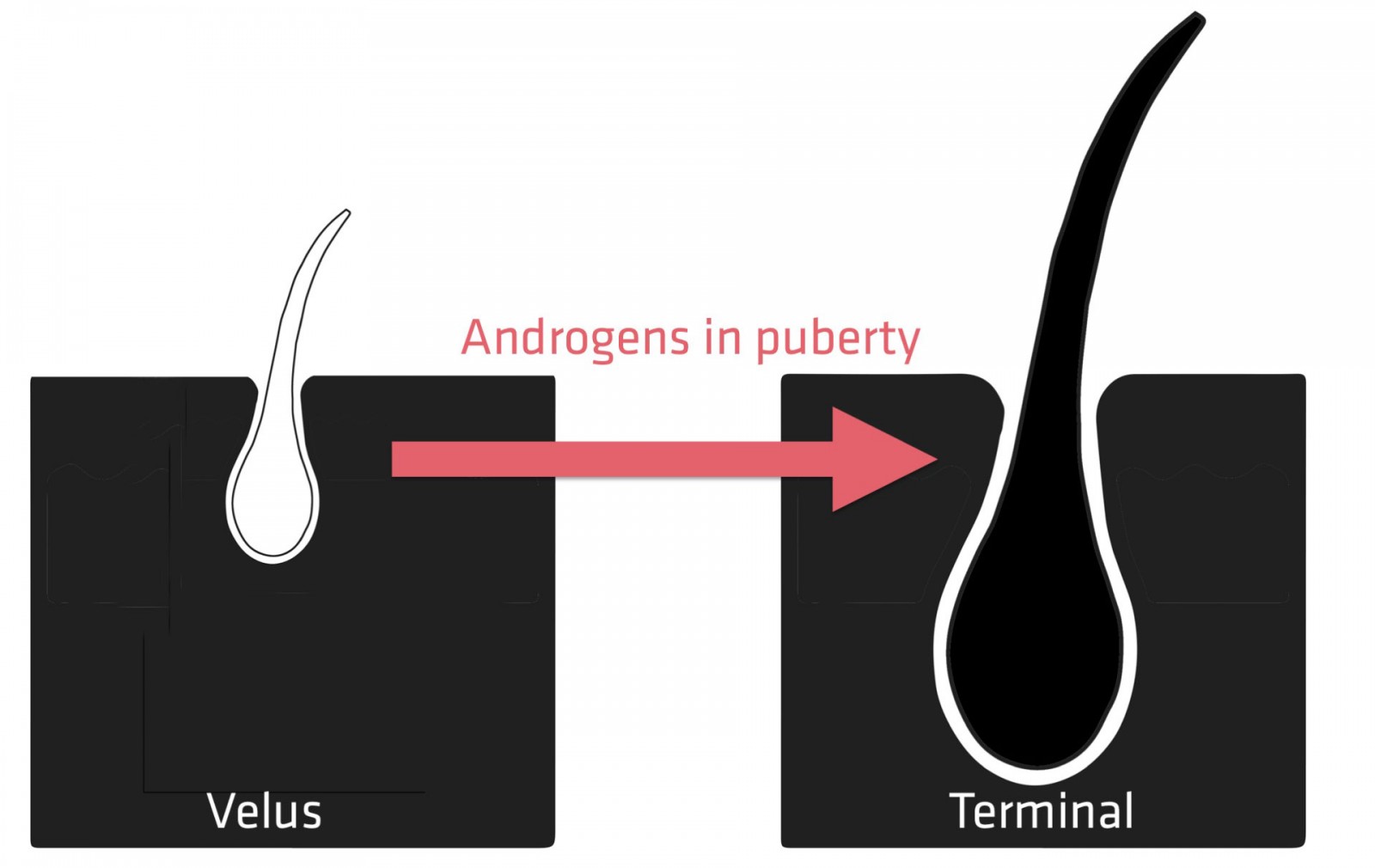 What is the difference between electrolysis and laser?
Electrolysis is the only permanent hair removal method which is recognized and approved as such by the FDA (The US Food and Drug Administration). The FDA is an agency of the US government that regulates a broad range of consumer products, services, and drugs in order to ensure not only the efficacy of the product but also the safety of the consumer. The FDA has carefully examined the electrolysis technique and has expressed that it's safe and that it permanently removes hair.
Laser hair removal, on the other hand, cannot be marketed as permanent hair removal since the effects are often temporary. And while laser hair removal can result in a permanent reduction in growth, it can't permanently stop future hair growth, unlike electrolysis. Lasers can reduce hair counts 40 to 80 per cent according to the latest scientific articles.
The laser is less effective than electrolysis because it targets the pigment of the hair that is only found in the Bulb, not the Bulge where the growth cells are. The damage to the hair is considerable enough that it will slow the growth cycle for a couple of months before reappearing. The other advantage of electrolysis is that it is suitable for pretty much all skin tones and hair colours, unlike laser hair removal.
Laser first? The simple rule is: Do laser first if you have dark hair and light skin. If you have dark skin or light hair, skip laser and do electrolysis from the start. We explained the difference between the 2 types of hair removal in the video below.
Video explaining the difference between laser and electrolysis:
Treatment time
Why do I need more than one session to permanently clear an area?
Electrolysis is considered a permanent hair removal method since it destroys the hair follicle stem cells. But it requires a series of appointments over a period of time. To fully clear a beard, a minimum of a 1-year timeframe should be taken as a reference. Why is this?

The hair follicle is one of the only organs that cyclically degenerates and regenerates from stem cells. Each hair follicle perpetually goes through 3 stages: growth (anagen), involution (catagen) and rest (telogen).

Knowledge of the hair cycle, and particularly, the length of resting is essential for understanding and interpretation of electrolysis results.
We ask you to stop shaving the hair before your electrolysis session: it's best to stop 5 days in advance for the facial area and 10 days in advance for the genital area.
Only hairs in the growing stage can be seen above the surface of the skin at the time of treatment. The resting hairs are simply not visible at the time of treatment because they do not grow after the shaving. In the face, the growing hairs only account for 60 per cent of all facial hair. This means at least 40 per cent of your hair is not visible at the time of your first clearing.
The growth cycle helps to explain:
That permanent results of electrolysis hair removal can only be achieved over a period of time.
That only hair in the growing phase can be removed during the electrolysis session.
The beautician cannot change the growth cycle, so the treatments have to be repeated for those hairs that were not in the right phase of growth. As the sessions go on, treatments will take less and less time.
You should make a distinction between apparent "false" regrowth and actual "true" regrowth. False regrowth is the appearance hairs that never received electrolysis, but grow in the same skin area that did. True regrowth happens when the hair wasn't entirely destroyed during treatment, which is something that occurs. More info on regrowth after electrolysis hair removal.
The video further explains this concept, which is quite complex:
How many hours will I need to clear an area? How much regrowth after hair removal is normal?
This is probably the most frequently asked question by our patients. The honest answer is: we don't know upfront. We do know the averages, but we see a big variation between patients. We don't know why one hair responds better to the treatment than the other.
The endless controversy about regrowth in electrolysis hair removal is largely due to the fact you cannot tell if the hair is true regrowth or, for example, a growing hair replacing an earlier shed resting hair. You cannot look at a hair and be certain, because "new growth" hairs and true "regrowth" hairs look the same.
Everything or nothing—There are electrologists that think a hair has to be treated several times before it is permanently destroyed. While there may be some truth to the "breaking down" concept, we don't believe in it. We believe that you either destroy the follicle, or you don't. If the follicle is not destroyed, the regrowth ultimately achieves its original size.
There will always be a certain amount of regrowth after initial electrolysis treatments, even when they are performed by a skilled electrologist. If electrolysis is performed perfectly, then theoretically there should be no true regrowth. Due to a variety of factors, this is never the case. Even in the best of hands, we estimate a regrowth factor of 25-50%. Whilst opinions differ as to what is an acceptable percentage, most experienced electrologists estimate that for a treatment to be considered effective, at least 40-50 per cent of the treated hairs should be permanently removed with each treatment. Experts cannot give a definitive number because there are so many variables that affect outcomes. The electrologist's skill in working with these variables will determine the percentage of permanency for each individual treatment. Don't get discouraged, just keep attending your appointments regularly. This will ensure you get the most positive results.
Completion of facial electrolysis will probably take from under 100 hours to over 200. This is a broad range, unfortunately, as some patients respond better than others for factors still unknown to us.
How many treatments will I need?
The total number of sessions of electrolysis hair removal needed to remove hair permanently from a particular area will vary from person to person. But the unwanted hair that is gone will be gone forever.
Generally speaking, you are likely to require treatment for at least 12 months.
It can take anything from 8 months up to 2 years in some cases.
We realize that this will seem like a very wide timeframe, but it is just impossible to be more specific due to a big variation in response to treatment.
We still don't fully know all factors that account for the difference in total treatment time.
If we feel we have a bad killing rate after your first session we will switch to a different method or adjust our settings.
How long should I wait in between sessions?
You can choose between a fast track of 4 weeks in between session (but with fewer hairs treated per sessions).
We recommend a 6 weeks track for the best balance between total timeframe and cost-efficiency.
Maximum time in between sessions is 16 weeks.
What does it cost and how do I book?
Price and booking of electrolysis hair removal
Am I a good candidate for hair removal?
Anyone with unwanted facial or body hair is a good candidate for electrolysis. Electrolysis is really for everybody.
Electrolysis hair removal (in contrast to laser) works for:
any skin type;
any hair colour;
any part of the body.
The only people advised not to have electrolysis hair removal done, are those with active skin inflammation.
Is hair removal painful?
The short answer for most people is "yes, it is".
Unfortunately, the hair follicle is the most richly innervated part of the skin.
While many clients can tolerate electrolysis hair removal without requiring pain relief for a certain amount of time, it's overpromising to state that this treatment will be painless or virtually painless.
The biggest limiting factor for the duration of the session for most electrologists is the pain tolerance of the patient. This is why at o2 Clinic, with our medical staff in the building, we created a solution so the patient can tolerate longer sessions up to 8 hours a day, for several days in a row. We use local anesthetics to make you more comfortable during the treatment, as it makes the pain bearable.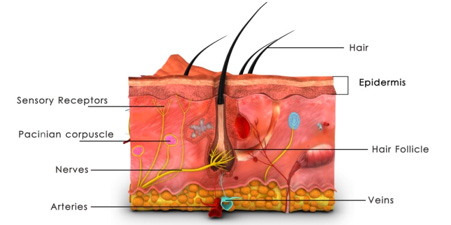 The hair follicle is the most innervated part of the skin. Hence the pain of electrolysis hair removal
Permanent hair removal specialists
At o2 Clinic, electrolysis hair removal is carried out by 5 different talented beauticians who are passionate about their work.
How to prepare
Before your first electrolysis hair removal treatment you should be aware of the following:
No epilation or waxing for the past three months.
Stop shaving in time before your treatment:

For the facial area: stop 5 days in advance
For the genital area: stop 10 days in advance
This ensures that your facial hair or body hair is long enough to achieve optimum results. You should also make sure you are wearing comfortable clothing.
More info on preparing for your electrolysis hair removal session
What will happen during my session?
During your first session of electrolysis hair removal, we will look at your skin and your hair growth. We will then explain everything you need to know and draw up a treatment plan.
The beautician uses two instruments: a computer-assisted epilator and tweezers.
During the treatment, the patient is simply lying down while the probes are inserted and the hair removed. The probes are then re-inserted into more hair follicles and so on.
The epilator probe is inserted via the hair shaft. The skin is not damaged because the probe is passing through a natural opening. The insertion of the probe is virtually painless.
The probe then gives off an electric current for a few seconds. This can be painful.
Finally, the hair is removed from the skin using tweezers. This is painless.
We usually give a short 5-minute break every hour, and of course, bathroom breaks are always given if and when needed.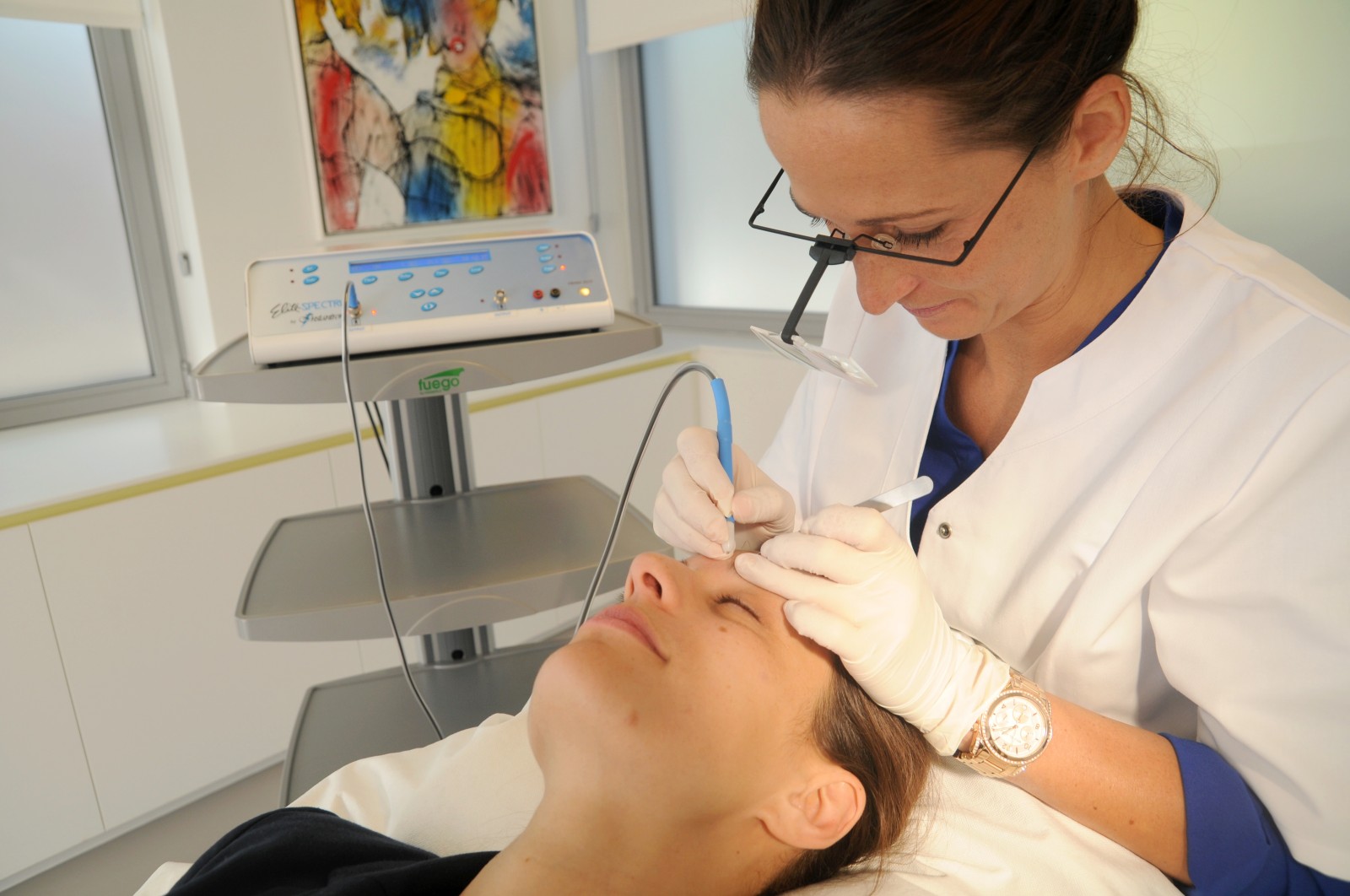 Aftercare
After your electrolysis hair removal session, you should definitely remember the following:
Apply the after-care lotion for a quick and effective recovery.
For the first three days after the treatment, do not use make-up, sun cream, products containing alcohol, or scrubs.
Avoid intensive sun exposure for about three to five days.
Take an ice pack or wet compress from the fridge and apply on the swelling: 15 minutes at a time, with a 10-minute break.
Learn more about electrolysis aftercare
Which skin reaction can I expect after my treatment?
On the day you have had your treatment, the skin may be red and you may feel a burning sensation. This varies from one person to another and it is temporary. Scabs may also temporarily appear on the skin. It is important to leave these alone, to prevent infection and scarring. There may also be slight temporary swelling of the skin.
The risks
There are generally no permanent side effects.
The risk of electrolysis hair removal is epidermal injury and damage to epidermal melanin. Epidermal injury may result in scarring. Damage to the epidermal melanin may result in hypopigmentation spots. If the damage to the dermis is too big, pitting can also be a consequence.
Finding an electrologist with a lot of experience is key to reduce your chance on side effects.
Painless electrolysis
Electrolysis hair removal can be a rather painful procedure. Everyone has their own tolerance for pain. The description of the discomfort ranges from "no worse than a mosquito bite", to "like a rubber band popping hard against my bare skin". Electrolysis can cause a tingling and stinging sensation, and you have to go through it with every hair.
The degree of pain is related to the area of treatment. Certain areas, such as the upper lip, are known to be more sensitive than areas such as the eyebrows. In our clinic we work with local anesthesia, which reduces the pain to zero.
Local anesthesia
How does it work?
One injection with local anesthesia anesthetizes an area of skin the size of a coin. When starting your treatment we will make several small injections to start working on the specific area. For example, if you are working on the chin, about 4 small injections are needed to numb half of the chin area.
Meanwhile, every time the anesthetized area is completely stripped of hair, you will get more injections to anesthetize a new area, which will then be treated.
Which pain medication is used?
The medication we use is called Xylocaine 1% with adrenaline.
Side effects
Local anesthetics are generally safe and do not usually cause side effects, apart from some tingling as it decreases.
Disadvantages
The injections can be unpleasant. Patients who have difficulty with needles and/or injections should prepare mentally. Pulling away during an injection can be dangerous because you don't know where the needle will end up. You have to go through it.
Some areas are more sensitive than others (for example, the upper lip is very sensitive). The injections can hurt more in those areas.
Practical information
With local anesthesia, most people can tolerate electrolysis sessions of up to 8 hours a day.
Make sure you have a good breakfast in the morning.
Frequently asked questions
We are doing our very best to keep this information up-to-date. In case you see anything that no longer seems accurate, or in case you have a question, please fill out the form below.